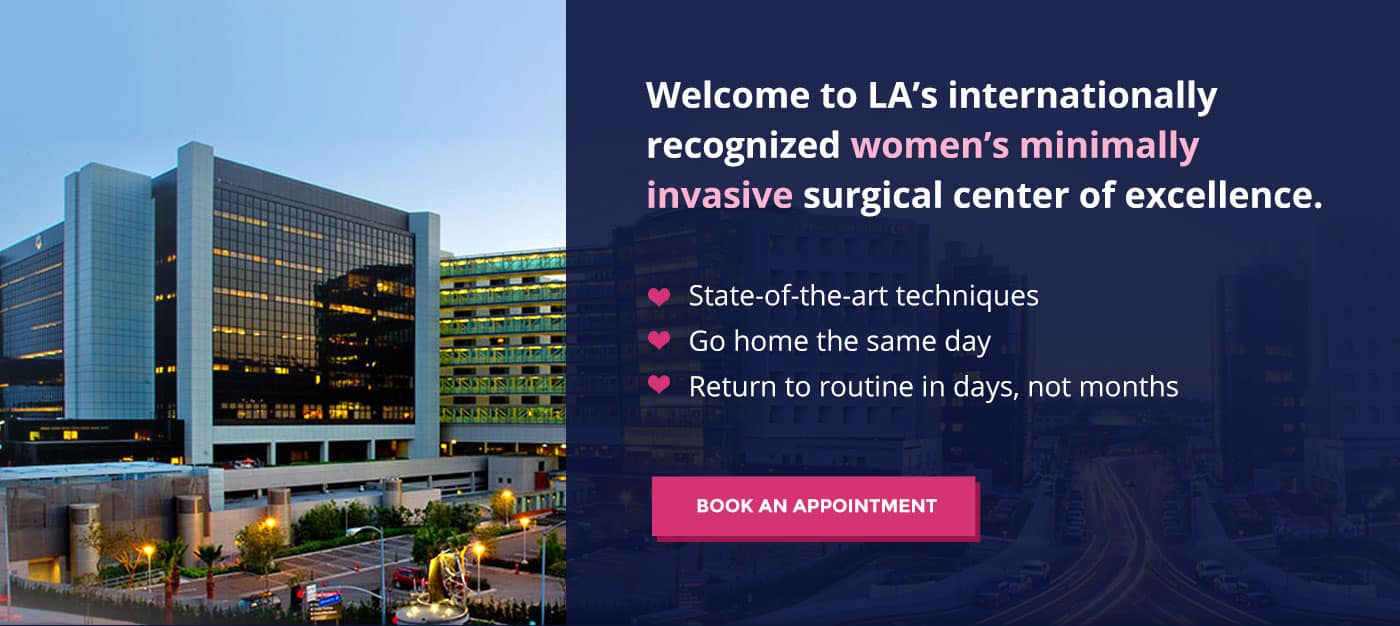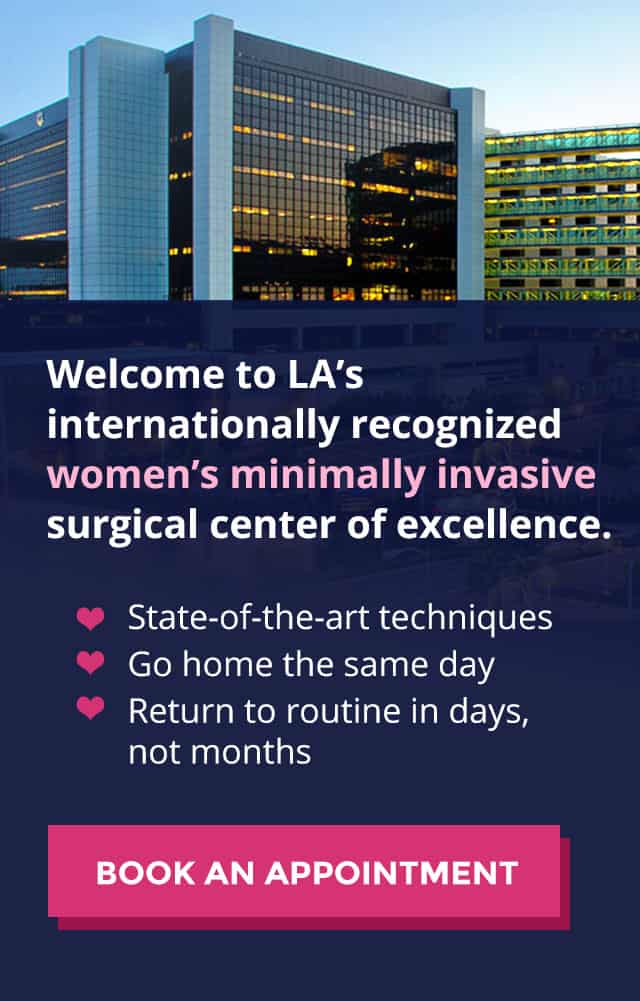 The Best Gynecological Laparoscopic Surgeons in Los Angeles
The Best Gynecological Laparoscopic Surgeons in Los Angeles are Ending Women's Suffering from Their Medical Conditions… Quickly and Painlessly.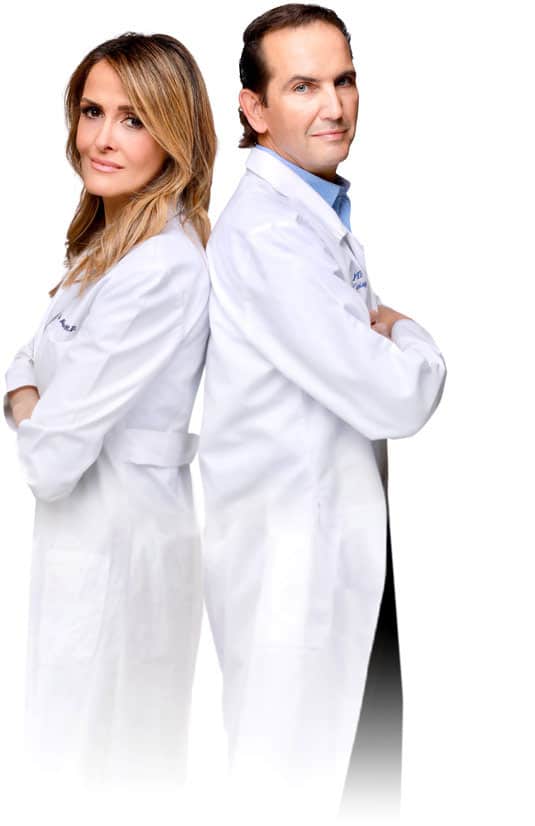 Dr. Thais Aliabadi
and
Dr. Ramon Yera
are renowned OB-GYN surgeons who belong to a select group trained in the most highly advanced minimally invasive laparoscopic procedures.
These world renowned surgeons highly advanced outpatient procedures are among the most sophisticated gynecological surgeries performed today
Their life changing minimally invasive surgical techniques
minimize pain, complications and recovery time
compared to any other surgical approach.
They've performed thousands of these out-patient laparoscopic procedures, treating endometriosis, small to huge fibroids, cysts, masses and more
Their commitment to offering women better outcomes with far less complications led Dr. Aliabadi and Dr. Yera to create Los Angeles' first minimally invasive gynecological surgical practice.
Learn more about Dr. Aliabadi and Dr. Yera
20+ Years of Experience You Can Trust
Dr. Aliabadi and Dr. Yera have performed minimally invasive laparoscopies for over two decades, bringing an unparalleled wealth of experience to the surgical table.
They've trained their peers and surgical residents throughout the world and have made many media appearances to educate the general public about the latest state-of-the-art minimally invasive techniques.
(844) 541-7900
book an appointment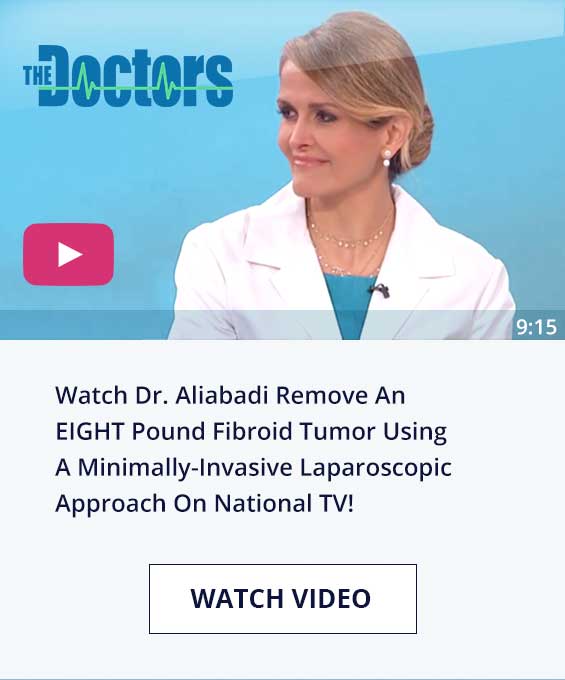 Why You Want
Minimally-Invasive
Laparoscopic Surgery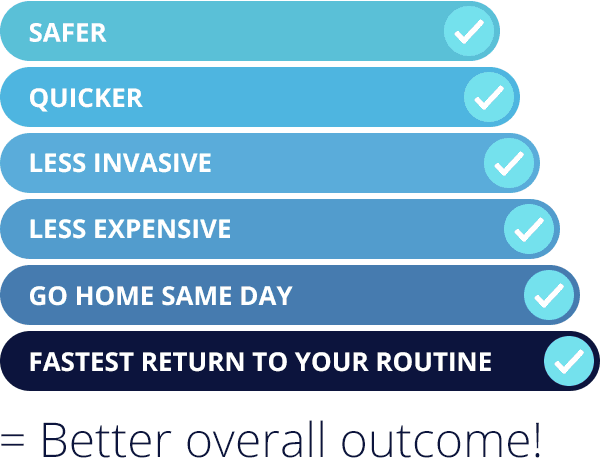 Our revolutionary surgical approach is performed via tiny abdominal incisions, thus it's less invasive, quicker, safer and less expensive than traditional laparoscopic or even robotic surgery.
What's more, our approach has shown better patient outcomes than standard laparoscopic surgery for the treatment of fibroids, masses, endometriosis and more.
Our patients to go home the same day, experience minimal post-op pain and get back to their normal routine in days, not weeks or months. After all, today's women are way too busy to put their life on hold for 8 weeks to recover from open surgery and hospitalization.
Exclusively dedicated to women's health concerns
Using state-of-the-art minimally invasive OUTPATIENT laparoscopic procedures such as:
[ see all procedures ]
Our Patients Say…

When she diagnosed me I felt this overwelming sense of relief that I hadn't had in years. See, I knew something wasn't right, but every doctor I went to just did the normal tests and told me I was fine and that everything was normal. Long story short, I required surgery and Dr. Aliabadi's staff went above and beyond to get me scheduled for surgery that week so I could be on the road to recovery sooner rather than later.
After surgery Dr. Aliabadi AND her staff followed up with me to make sure I was OK.
Amy J. (on Yelp)
She very thoroughly explained everything she found, why it's happening and what the best course of action is. For the first time ever, I felt heard and understood and most importantly I felt truly cared for. If you're experiencing similar issues, I beg you to please go see her and not waste your time on any other doctor.
Sofia B. (on Yelp)
The best OB you will ever have. Hands down. Changed my life! Dr. Aliabadi is extremely knowledgeable and changed my quality of my life with endometriosis.
Yasmine H. (on Yelp)
Our sincere gratitude and appreciation in having Dr. Aliabadi as our physician. We are deeply grateful for the way she manages her practice, her appointment visits, how well she knows her profession, and how much she truly cares.  Most importantly, we are grateful for her true understanding of what a patient is going through, not only physically but emotionally. Thank you and please know we very much appreciate you!
Jim S. (on Google)
I was having issues with an ovarian cyst (never had one in my life before this).  I ended up needing a laparoscopic surgery and although I was terrified and the surgery was sudden (I'm afraid of anything medical), I felt completely at ease knowing that Dr. Aliabadi was going to be doing my surgery. The surgery was a breeze (in and out with no complications within hours). 2 weeks post-op I feel almost back to normal. The incisions are so small that 6 months from now I will hardly notice them.
Brittany H. (on Yelp)
Dr. Aliabadi is a dream. Really, I can't even put into words how amazing she is.  My husband says "she's such a badass" and he means that with all sincerity 🙂 She is an expert in her field and knowledgeable beyond.  She is a no BS kinda doctor, but compassionate at the same time.  She is straight forward, direct and a top-notch quality doctor.
Sabrina S. (on Yelp)
The knowledge of Doctor Thais Aliabadi is amazing.  She explained to me in detail about my problem.  Other doctors never spent so much time on the explanation.  She told me right away what caused my pain and did some tests that other doctors never did to find out what caused my pain.  I highly recommend Dr. Aliabadi to everyone.  She will find the solution to your problem!
Lana S. (on Yelp)
The most caring and amazing doctor I have ever been to. Saved my life and always does what is right for the patient. Makes you feel very comfortable and is very knowledgeable and thorough in her approach. I recommend her to all my friends.
Jimmey K. (on Yelp)
Dr. Aliabadi took a lifetime worth of pain away in under 2 hours! She was the only one who listened to me and genuinely cared enough to help me with my endometriosis. Although the surgery wasn't cheap, it has already changed my life tremendously in just 1 short year. It was worth every penny and I'm so very grateful for her!
Lesley B. (on Yelp)
Dr. Aliabadi diagnosed me almost instantly and laid out a plan of action that has proven to be 100 percent effective. I HIGHLY recommend her.
Grace P. (on GatherUp)
If not for Dr. Aliabadi the tumor on my right ovary may have turned cancerous. In my opinion she saved my life. Forever in her debt. I love this woman. Kimmy and the rest of the staff make going to the doctor almost a treat.
Mary M. (on GatherUp)
Dr. Aliabadi made me feel immediately at ease and took the time to explain various medical issues and numerous options available to me. She identified issues and concerns that my previous doctors had missed. She truly has an encyclopedic knowledge of all medical issues, and I am truly grateful to her for the incredible care she has provided to me.
P. N. (on GatherUp)
It's always a good experience in your office. Dr. Aliabadi is wonderful and the whole office does a great job. The atmosphere is very warm and welcoming – unusual in a doctor's office.
Jane M. (on GatherUp)
Love the office, staff and Dr. Aliabadi – I have been a patient for years – She has the best in-office technology and knowledge to be sure you leave knowing you are healthy and have the best health care for our times
Sandra M. (on GatherUp)
Dr. Aliabadi is the ideal ob-gyn. She is extremely knowledgeable, professional, thorough, considerate, and empathetic. I enthusiastically recommend her to friends and family. She is generous with her time and advice and never rushes through appointments. She addresses every question and concern with great care and attention. Her office staff is always very pleasant and conducts business in a very expeditious and courteous manner.
Michelle S. (on GatherUp)
Dr. Aliabadi is amazing. After several doctors and different opinions about my medical options, ranging from hysterectomy to half completed procedures, she is the only one that encouraged me and gave me hope for a better quality of life. I would definitely recommend her expertise and skills to those in need.
C. H. (on GatherUp)
I love Dr. Aliabadi and everyone in her office. You will not find a more knowledgeable and compassionate OB/GYN, or a more supportive and accommodating office.
Nanika L. (GatherUp)
Thais is the best and I always value her input and advice. Her confidence and commitment to me as her patient has never been in question. She goes above and beyond what most doctors suggest and analyze in various parts of my health. I appreciate her very much.
Portia F. (on GatherUp)
It was absolutely life changing. Dr. Aliabadi is God's biggest gift to families around the world, especially those of us who were living in chronic pain before we had the pleasure of meeting her! I can't thank her and her team enough for what they've done for me.
Lesley B. (on GatherUp)
I'm so blessed to have had Dr. Aliabadi for my procedure, a doctor with such great compassion for her patients. Her staff in the office as well as the surgery center made me feel very special and gave me the best care anyone could ask for. Thank you.
Linda B. (on Facebook)
Dr. Aliabadi is the best OB/GYN surgeon in the world. She made me feel like my health was important to her. Dr. Aliabadi made my anxiety disappear when she said I could have an outpatient hysterectomy. I was driving and able to complete a 4 1/2 mile walk three days after surgery. I am so happy that I had the Laparoscopic Hysterectomy-Minimally Invasive procedure.
Sheila B. (on Google)
Dr. Aliabadi is the best doctor I have ever had with the best staff and group of women at her side. This entire office is truly a pleasure to visit each time, assuring you the absolute best experience possible no matter your circumstances that bring you. All while Dr. Aliabadi acts as your advocate, listens to you, and truly champions your health and well-being above all.
Samantha B. (on Google)