What is a Hysteroscopy?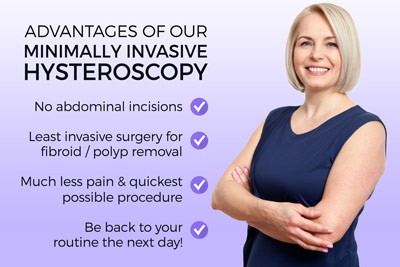 A hysteroscopy is a procedure performed by our gynecological surgeons.

This procedure allows us to examine your uterus up close so that we can diagnose and treat many uterine problems at the same time.

This procedure involves inserting a very thin tube containing a lighted camera inside your uterus to view your anatomy as it is projected onto a video screen in our operating room.
Watch Dr. Aliabadi remove an 8-pound fibroid tumor laparoscopically on The Doctors TV Show.
When are Hysteroscopies performed?
A hysteroscopy might be recommended for one of the following reasons:
To diagnose fertility problems
To search for a cause of abnormal uterine bleeding or heavy bleeding
To inspect and remove scar tissue due to endometrial disease or prior surgeries
To look for an IUD (an intrauterine device used for birth control)
The advantage of hysteroscopy is that it makes it possible for your surgeon to diagnose and treat you at the same time. This is because special instruments can be passed within the hysteroscope tube to perform specific tasks like taking an endometrial biopsy or removing a polyp or scar tissue. So, in the same session, you can be diagnosed and treated for certain uterine problems. Let's look at this in greater detail.
Why are Hysteroscopies performed?
Hysteroscopies are routinely performed to treat two fairly common conditions:
Fibroid tumors are cysts that form in the muscle wall of the uterus (technically known as Myomas). They are a fairly common cause of abnormal or heavy bleeding, pregnancy complications, and pelvic pain.
Uterine polyps are small bulb-shaped masses of endometrial tissue that attach to the uterine wall by a stalk. These can also cause heavy or abnormal bleeding, especially in peri-menopausal women.
What happens during a Hysteroscopy?
Hysteroscopies are performed in our surgical suite. The procedure is performed with you lying on your back with your feet in stirrups, just like when you undergo a pelvic exam. The procedure is performed using local anesthesia and we will likely give you a little nitrous oxide (aka laughing gas) to help relax your muscles, decrease pain, and help with anxiety. Under special circumstances, we might recommend performing this procedure using another type of anesthesia or even general anesthesia.
After we dilate your vagina using a speculum, your cervix will also be dilated using either medication or special instruments. Once this is done, the hysteroscope will be passed through your vagina and cervix to gain access inside your uterus. In order to make it easier to view this hollow organ, air, or fluid may be used to expand your uterine cavity so that your surgeon can get a good look at the inside of the uterus.
By getting an up-close detailed view of your uterus, we can diagnose and repair any number of problems.
How are uterine fibroids and polyps removed during a Hysteroscopy?
Certain types of uterine fibroids and polyps can be removed using slim instruments that are introduced through the hysteroscope and use an electrified wire loop to separate the fibroids from the uterine wall or snip the polyps off their stalk using cautery before removing them through your vagina. The cautery not only stops the bleeding but also helps prevent any regrowth.
This procedure is known as a Hysteroscopic Myomectomy (in the case of fibroids) and a Hysteroscopic Polypectomy (in the case of polyps). The entire surgery typically takes 45 to 60 minutes.
A hysteroscopy is the least invasive surgical option for the removal of fibroids or polyps because it does not require making abdominal incisions. This results in much less pain and a quicker recovery than a laparoscopy or an open abdominal surgery. In most cases, you can be back to your routine the next day.
Hysteroscopy recovery
Once your procedure is done, you will rest in the recovery area until your anesthesia wears off, usually no more than a couple of hours. You will need to make arrangements for someone to drive you home and care for you during the first 24 hours following surgery.
We advise our patients to avoid rigorous activities and heavy lifting for the first few days after their surgery. You will also need to abstain from sex or from inserting anything in your vagina (including tampons) until you are completely healed, in order to prevent infection.
You can expect to have mild pain that can usually be managed with ibuprofen or, if needed, your doctor can provide a prescription for pain medication.
Many of our patients are able to go back to work on the day after their procedure and can expect to be fully recovered and able to resume normal activities within two or three days.
It is not unusual to experience mild vaginal bleeding and spotting for three or four days after surgery. We advise our patients to call us right away if they experience any of the following symptoms which can be a sign of infection:
Fever over 100 degrees
Chills
Nausea
Vomiting
Severe or increasing pain
Complications of Hysteroscopy
Although complications following a hysteroscopy are rare, it's important that you understand any possible risks, which include:
Uterine adhesions (scarring)
Infection
Blood loss
Perforation and/or burns of the uterus during surgery
Damage to other pelvic tissue, such as the fallopian tubes, bladder, or bowel
When it comes to gynecologic surgery, there is no substitute for experience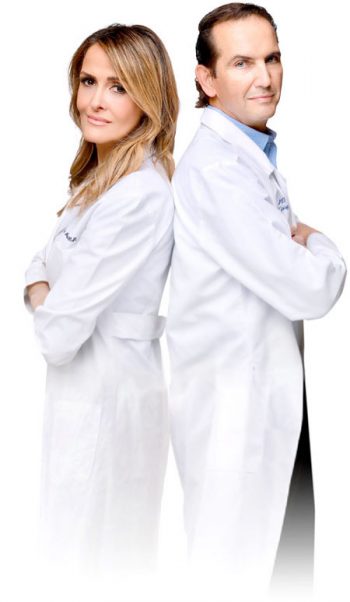 Dr. Thais Aliabadi and Dr. Ramon Yera are recognized experts with an international reputation in minimally invasive OB/GYN surgery, having performed thousands of procedures over twenty years.
The recipients of dozens of awards for medical excellence and patient satisfaction, Drs. Aliabadi and Yera have joined forces to create the Outpatient Hysterectomy Center, a world-class surgical practice dedicated exclusively to women's health.
Doctors Aliabadi and Yera specialize in leading-edge minimally invasive surgeries that offer patients shorter recovery times, less pain, and the least interruption to their daily lives. They are pleased to work with a team of highly experienced, dedicated professionals who will help make your pre and post-procedure experience as pleasant and stress-free as possible.
If you are considering gynecologic surgery, you owe it to yourself to learn about the minimally invasive surgical treatment options available today.
Schedule a consultation today to have a candid conversation with one of our surgeons about your particular condition in a discreet and non-intimidating setting, where they can address all of your questions and explore what surgical procedure might be most suitable for you.
To schedule a consultation, please request a consultation online or call us at 844-541-7900.