What is a Myomectomy?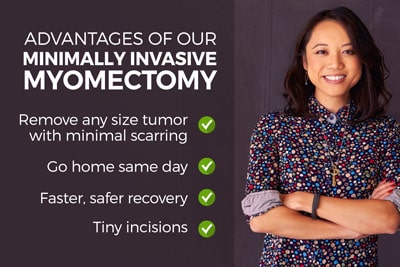 A Myomectomy is a surgery to remove fibroid tumors (also known as myomas) from your uterus while keeping it intact so that you can get pregnant in the future if you choose to do so.
The surgical removal of uterine fibroids is an option for women who have failed to respond to conservative treatment and suffer from fibroid symptoms including painful intercourse, heavy and prolonged menstrual bleeding, pelvic discomfort, low back pain, urinary frequency or urgency, persistent vaginal discharge, and infertility.
The three types of uterine fibroid removal surgery
Abdominal Myomectomy
An Abdominal Myomectomy is the most commonly performed surgical approach, but unfortunately, it has the longest recovery time. In this traditional approach, an (at least) 7-inch incision is made in the lower abdomen along the bikini line. The surgeon must then cut through several layers of abdominal muscles to gain access to the uterus for fibroid removal. Because this involves so much tissue disruption, it requires 4 to 6 weeks of fairly painful recovery.
Hysteroscopic Myomectomy
A hysteroscopic myomectomy can be performed in select cases where there are a few small, easily accessible fibroids. The surgeon introduces a long lighted telescopic tube into the vagina to gain access to the uterus. Long instruments are then passed through the tube to remove fibroids.
Minimally Invasive Laparoscopic Myomectomy
First developed 25 years ago, the minimally invasive laparoscopic procedure produces the least amount of tissue disruption, making it the safest surgical approach with the fastest and easiest recovery.

When this technique was first introduced, it involved making four or five small abdominal incisions through which a slim fiber-optic camera and endoscopic instruments were placed to allow the surgeon to see inside the pelvis and remove fibroids. In recent years, the minimally invasive procedure has become more refined but, unfortunately, has failed to gain popularity among most practices.
Why isn't the superior laparoscopic myomectomy more popular?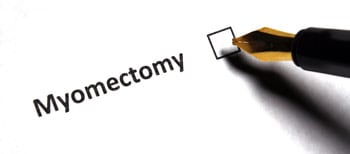 Minimally invasive laparoscopic myomectomies aren't commonly performed by OB-GYN surgeons for two reasons:
The minimally invasive technique requires extensive training to learn the nuanced surgical skills needed to perform this surgery well.
Most surgeons don't have the large volume of laparoscopic cases needed (hundreds per year) to acquire the experience necessary to achieve consistently exceptional outcomes.
Why do many laparoscopies become open abdominal procedures?
Surgeons with limited experience in this procedure feel comfortable performing laparoscopies to remove smaller masses, but often find out after the procedure has begun that the mass is not as easy to remove as they thought from looking at pre-op imaging studies.
When this occurs, they have to resort to converting to an open myomectomy procedure involving a large abdominal incision. That is why virtually all surgical consents for laparoscopic procedures include a clause giving the surgeon permission to convert to an open procedure if she or he feels it is medically necessary.
In recent years, robotic technology has been introduced to this arena but, despite greatly increasing the cost of the surgical procedure (which many insurance companies will not cover) robotic Myomectomy surgery has been met with limited success when its outcomes are compared with those of experienced laparoscopic surgeons.
Fortunately today there are a group of highly skilled gynecology surgeons in the United States who can perform minimally invasive laparoscopic myomectomies, safely removing fibroids of any size through three 5mm wide abdominal incisions with excellent results. This laparoscopic approach is vastly superior to open surgery with regard to patient safety and outcomes and has made the open abdominal approach obsolete.
Why minimally invasive laparoscopic myomectomies are the preferred surgical option
The many advantages of minimally invasive laparoscopy include: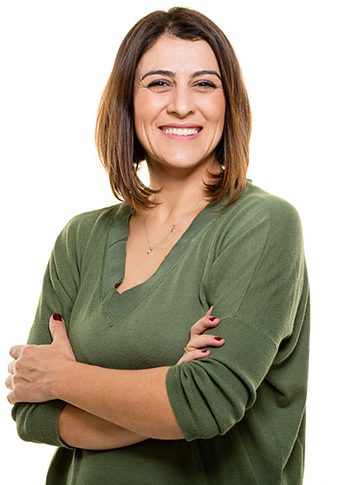 Shorter surgery time, which means less time under general anesthesia, greater patient safety and quicker recovery from anesthesia
Magnified, panoramic visualization of the pelvic organs through the laparoscope improves the surgeon's precision and thus patient safety
Less blood loss than open surgery
Less post-op pain than open surgery
Lower likelihood of developing adhesions (internal scar tissue that can cause pelvic pain) following surgery
Improved cosmetic appearance due to fewer and much smaller surgical wounds
No overnight hospital stay
Much faster recovery time with a quicker return to normal activities
Extremely low rate of post-op complications requiring hospital re-admissions
Greater patient satisfaction (not only with their post-op appearance but also with the entire surgical and recovery experience)
The procedure is covered by most insurance carriers
A Minimally Invasive Out-Patient Myomectomy makes it possible for our surgeons to safely remove large fibroid tumors of any size (EVEN UP TO THE SIZE OF A WATERMELON!) through just THREE INCISIONS 5mm WIDE.
With this ground-breaking technique, you can go home right after surgery, be up and about the next morning, and fully back to your normal routine in less than one week!
Watch Dr. Aliabadi remove an 8-pound fibroid tumor laparoscopically on The Doctors TV Show with our Minimally Invasive Myomectomy procedure.
By doing surgery through such small incisions, the minimally invasive approach results in minimal disruption of the abdominal muscles and soft tissues of the pelvis. This translates to significantly less post-op pelvic pain and a much quicker recovery. With a minimally invasive laparoscopic myomectomy, you can resume your normal routine in less than a week. This is in stark contrast to the 4 to 6-week recovery period required for an open abdominal myomectomy.
The Outpatient Hysterectomy Center is uniquely qualified to perform minimally invasive pelvic surgeries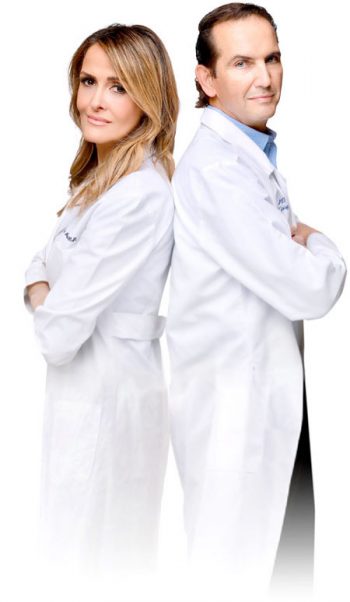 Today, Southern Californians are fortunate to have two world-renowned endoscopic OB-GYN surgeons performing the latest, most advanced type of laparoscopy known as a Minimally Invasive Out-Patient Myomectomy.
Dr. Thais Aliabadi and Dr. Ramon Yera are renowned experts in the field of minimally invasive pelvic laparoscopic surgeries. They each have performed thousands of these procedures over the past two decades.
What's more, both physicians have traveled extensively throughout the United States and internationally teaching these surgical skills to other OB-GYNs, lecturing gynecologists at conferences and medical schools, and educating the general public through television appearances. In addition, they have published articles in peer-reviewed journals and collaborated with medical device manufacturers to develop next-generation products.
And, most important for you, Drs. Aliabadi and Yera have assembled a team of highly experienced professionals to help make your pre and post-surgical experience as pleasant and stress-free as possible.
The advantages to this approach are so many, that women who learn about this option are no longer putting off surgical removal of their symptomatic fibroids once and for all. Many patients tell us "If only I knew about this option sooner, I wouldn't have waited for so long."
Major invasive fibroid removal surgery is now a thing of the past.
Women no longer need to choose between suffering from fibroid symptoms or undergoing major invasive surgery, a hospital stay, and a long painful recovery.
With our Minimally Invasive Out-Patient Myomectomy, you can take control of your health today and get on with your life, literally, tomorrow!
If you wish to schedule a consultation to learn how we can help you or to establish care with us, please request a consultation online or call us at 844-541-7900.