Welcome to our clinic—because women deserve better surgical options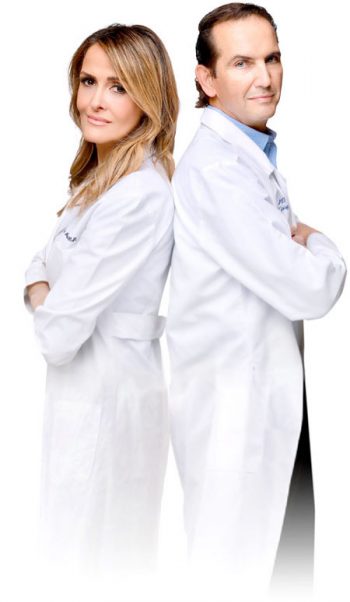 We are Los Angeles' only surgical team exclusively dedicated to sparing women from invasive open surgeries that involve extended hospital stays, long painful recoveries, and, too often, disfiguring surgical scars.
Much of this unnecessary suffering has been caused by two things:
Far too few surgeons are trained in women's minimally invasive outpatient techniques or have performed a high volume of these advanced state-of-the-art procedures.
Far too few women are aware that minimally invasive out-patient surgery is available for hysterectomies, endometriosis, and other serious gynecological conditions.
That is why we decided to create a surgical practice dedicated exclusively to addressing women's surgical needs.
Today, the women of Southern California (and those who travel to see us from around the United States and the world) now have access to two of the leading experts in women's health and surgery.
Dr. Aliabadi and Dr. Yera decided to join forces to create Los Angeles' first minimally invasive gynecological surgical practice.
Trust your surgical care to our world-renowned OB-GYN surgeons
We are among a handful of elite American OB/GYN surgeons trained in highly advanced minimally invasive laparoscopic procedures, some of which are among the most sophisticated surgeries being performed today.
We have performed thousands of minimally invasive laparoscopies for nearly four decades between us. We bring a wealth of experience to the surgical table for those in need of a hysterectomy, treatment for endometriosis, fibroids, cysts, pelvic masses, abnormal vaginal bleeding, and pelvic pain, to name just a few.
In our efforts to make this life-changing surgical approach available to more women, we've trained hundreds of surgical colleagues and medical residents throughout the world. We've also made many media appearances to educate the general public about the availability of minimally invasive surgery.
Watch Dr. Aliabadi perform minimally invasive surgery on national television to remove an 8lb.fibroid tumor.
We've performed literally thousands of these life-changing minimally invasive surgical procedures.
Expertise in a compassionate environment
We are absolutely committed to offering women with serious GYN conditions better outcomes with much less pain, complications and recovery time as compared to traditional surgical approaches.
Every person on our team, from surgeon to receptionist, are dedicated to helping eliminate the fear and uncertainty surrounding gynecological surgeries by creating a warm, supportive environment for our patients. We work hard to get to know each patient as an individual so that we can provide medical advice that takes into consideration their needs, lifestyle, and family life.
In short, we strive to have the kind of open communication with our patients that we would expect to have when seeing our own doctors.
We are delighted to able to offer women a surgical option that results in less pain, greater safety, minimal scarring and a quicker return to normal life.
Decades of experience you can trust
We do everything in our power to give our patients the most appropriate treatment for their condition instead of what's most expedient for their insurance provider. We have spent our entire careers swimming against the current to advocate for what's best for our patients and we don't intend to change.
Because of our patient-centric focus, our practice has grown to now include patients who have traveled from near and far, celebrities, sports figures, royalty, and women from every walk of life. All have sought us out to establish care with us and entrust us with their well-being.
We derive great satisfaction from our relationship with our patients and it is gratifying to hear them express their appreciation for our efforts. We feel blessed as we launch into this new phase of our practice. We would be honored if you would consider entrusting us with your care.
Wishing you the best in health and happiness,
Dr. Thais Aliabadi and Dr. Ramon Yera
Our Office Awaits Your Visit!