Is there a surgery to correct a protruding labia?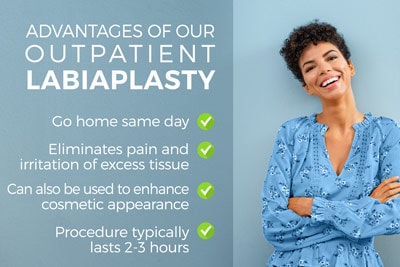 Yes. The surgery that is performed to reshape or reduce labial length is known as a Labiaplasty. Although many women elect to have labia reduction due to cosmetic reasons, because they feel self-conscious in front of their partners, others may wish to undergo labiaplasty procedures to eliminate the pain or irritation resulting from twisting or tugging of the excess tissue while riding a bike or having sexual intercourse or wearing certain styles of lingerie.
For those women who are self-conscious about their genitals and desire surgery for aesthetic reasons, labiaplasty is a vaginal surgery procedure that can enhance the cosmetic appearance of the outer vagina, giving these patients greater self-esteem.

How is labia reduction surgery performed?
Labiaplasty surgery is done on an out-patient basis, which means that you can go home afterward. It can be performed with local anesthesia plus some sedating medication so that you're comfortably asleep during surgery. The procedure typically lasts from two to three hours, after which you'll spend one hour in the recovery area before you can be taken home by your pre-arranged ride.
There are two surgical methods for performing a labiaplasty. After examining you, your doctor will ask you to express what you hope to achieve with this surgery before discussing each approach in detail and recommending the one that will best achieve your goal.
You will be encouraged to ask many questions to make sure that you have a good understanding of each surgical technique prior to making your decision to undergo labiaplasty.
The two surgical techniques for labia reduction are:
Trimming technique
The most popular labiaplasty technique involves trimming a strip of skin and muscle from the outermost edges of the labia in order to reduce its length and eliminate some of the darkened skin along the border that some women find undesirable. The wound is then closed using absorbable stitches (suture).
Wedging technique
In a wedging labiaplasty, the surgeon removes a triangular-shaped wedge of tissue from each labia before sewing the two exposed wound borders together with an absorbable suture. This method is for reducing the fullness of the labia without shortening its length.
What is recovery like after a labia reduction surgery?

Immediately following your procedure, you will be asked to wait in the post-op area until your anesthesia wears off. You will need to have a pre-arranged companion to take you home.
You will likely have some pain and swelling for the first week after surgery. Because it can be painful to sit, most women plan on taking a week off from work. A donut-shaped cushion can help take the pressure off your genitals while sitting. Applying ice compresses to the area for 20 minutes at a time several times daily helps with swelling.
Your surgeon will advise you to refrain from any vaginal sexual activity for about four to six weeks in order to allow you to heal properly. After six weeks, most patients are able to return to their normal routine.
Are there risks involved with a labiaplasty surgery?
As with any surgery, there are risks. Complications from a labia reduction surgery can include:
Bleeding
Bruising
Infection
Loss or change of sensation in the genitals
Lingering pain
Welcome to the first minimally invasive outpatient surgical practice dedicated to women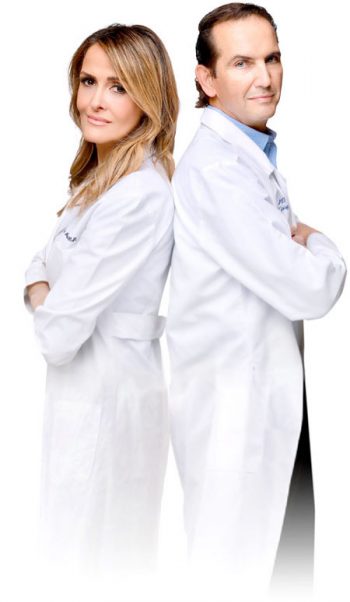 For years, Drs. Yera and Aliabadi have spared women from experiencing invasive open surgeries associated with disfiguring surgical scars, extended hospital stays, and long painful recoveries.
All of this unnecessary suffering was simply because women weren't aware that minimally invasive out-patient surgery was available.
Luckily, the women of Southern California (and those who wish to travel here) now have a choice. Drs. Aliabadi and Yera are among a handful of elite American OB-GYN surgeons who perform Minimally Invasive Out-Patient Hysterectomies.

Watch Dr. Aliabadi remove an 8-pound fibroid tumor laparoscopically on The Doctors TV Show.
After performing thousands of these procedures and teaching this surgical technique to gynecologists throughout the U.S. and abroad, Drs. Aliabadi and Yera collaborated to create an outpatient surgery practice exclusively for women. Their goal is to raise the bar for women's health by making these procedures more widely available to women everywhere.
If you wish to schedule a consultation to learn how we can help you or to establish care with us, please request a consultation online or call us at 844-541-7900.