What is a Laparoscopic Salpingectomy?
Laparoscopic salpingectomy is a minimally invasive procedure for removing one (unilateral salpingectomy) or both (bilateral salpingectomy) of your Fallopian tubes.

There are several reasons why Fallopian tube removal surgery might be advisable, such as disease, infection, fertility problems or cancer.
At the Outpatient Hysterectomy Center, laparoscopic salpingectomies are performed as out-patient surgery, meaning that you can go home after your anesthesia wears off to recover in the comfort and privacy of your home. You are up and walking within a couple of days and back to your regular routine within two to three weeks.
What are the Fallopian tubes?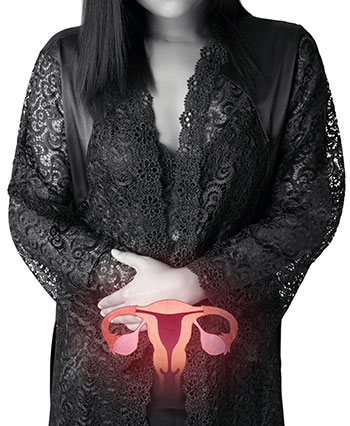 Let's quickly review some pelvic anatomy so that you can better understand the role your Fallopian tubes play in fertilization. The Fallopians are a pair of tubular conduits that connect your uterus with your ovaries. Just before your period, an egg is released from one of your ovaries and is guided into the Fallopian tube by delicate brush-like "fingers" at the end of each tube (called fimbriae).
As the egg travels down the Fallopian tube and into the uterus, it is either fertilized by a sperm that's made its way from the vagina, through the uterus and into the Fallopian tube or the egg isn't fertilized and is shed along with the uterine lining during menstruation.
When your Fallopian tubes become diseased, infected, scarred from endometriosis, or blocked by post-surgical adhesions, they might need to be removed. In fact, it is not uncommon for the Fallopian tubes to be removed at the same time as the ovaries (a procedure called a salpingooophorectomy).
Watch Dr. Aliabadi remove an 8-pound fibroid tumor laparoscopically on The Doctors TV Show.
Why would a doctor recommend a Salpingectomy?
There are a number of reasons why a salpingectomy might be performed:
Endometriosis: the abnormal growth of uterine tissue on the Fallopian tubes
Infection: from disease or sexually transmitted origin
Ectopic pregnancy: when a fertilized egg implants itself within the Fallopian tube (known as a tubal pregnancy)
Scarring or blockage: sometimes resulting from prior surgery
Tubal adhesions: when the walls stick together, sealing the tube shut
Fallopian tube rupture: usually associated with an Ectopic pregnancy
Hydrosalpinx: when a blockage causes fluid to back up within the Fallopian tube
Cancer of the Fallopian tube: although rare, but since almost half of the women with BRCA gene mutations have Fallopian tube tumors, prophylactic salpingectomies are sometimes performed on women at high risk of developing ovarian cancer
Infertility: Defective Fallopian tubes increase the risk of adhesions and ectopic pregnancies. Oddly enough, for some infertile women, removing one or both Fallopian tubes has been shown to increase their chances of successful implantation via IVF.
Can I conceive after a salpingectomy?
It is important for you to know that by removing both of your Fallopian tubes, natural contraception will be impossible. However, there may be other fertility options available, such as in-vitro fertilization (IVF). Under certain circumstances, some patients may be able to preserve their Fallopian tubes through alternative tubal surgery.
Preparing for a Laparoscopic Salpingectomy
Depending on your condition, your doctor may order special imaging tests to help guide surgical planning. One imaging study, known as a hysterosalpingogram, involves injecting a small amount of x-ray sensitive fluid inside your uterus and then taking x-rays to see if the fluid flows freely through your Fallopians or if there is a blockage.
The advantage of laparoscopic surgery is that your surgeon is able to directly inspect your pelvic organs in great detail through the camera that is placed inside your pelvis.
The day before your laparoscopy, you might be asked to perform a bowel prep (meaning you'll be asked to drink a special fluid that will make your insides clean as a whistle 😉 Because this procedure involves general anesthesia, you will be asked to abstain from food and drink eight hours before surgery. You may also be asked to refrain from taking some of your regular medications or supplements prior to surgery.
Because you will be going home after surgery, you will need to ask a friend to take you home since you will not be allowed to drive following general anesthesia.
How is a laparoscopic salpingectomy performed?

Once you are in the pre-op area, there are basically seven steps that will occur, and they are:
Our nurse will place an IV line in your arm through which your anesthesiologist will administer medications for general anesthesia, meaning you'll be unconscious throughout the procedure. We will also administer fluids through your IV line in order to keep you hydrated during surgery.


Once you're asleep, your nurse will place a small catheter inside your urethra to collect urine during your surgery (remember, you'll be getting IV fluids so you will be producing urine). Your abdomen will be cleaned with an antibacterial solution and sterile drapes will isolate the surgical field.


Your surgeon will then insert a fine needle into your abdomen to fill it up with carbon dioxide gas. This will serve to inflate your abdomen, pushing the abdominal wall away from your pelvic organs to reduce the risk of injury and to help your surgeon get a clear view of your organs.


Next, your surgeon will make a tiny 5mm (one-quarter inch) incision at your navel to introduce the laparoscope: a long tube with a lighted camera at the tip. The laparoscope will transmit video images to a monitor that gives your doctor a clear view of your organs as the scope is moved within your pelvis.


After doing a visual survey to get a closer look at all of your pelvic organs, your surgeon will make two additional quarter-inch incisions at your left and right abdomen to introduce long slender laparoscopic instruments that will be used to seal off, trim and remove any unwanted tissue, using the laparoscope as a visual guide.


Once the procedure is complete, the instruments and scope are removed and the small incisions are closed with stitches and dressed with a bandage. Once your incisions fully heal (within six months) you will be hard-pressed to even see any evidence that you even had the procedure.


You are taken to recovery where your vital signs will be monitored until your anesthesia wears off. Once you are fully awake and able to urinate on your own, you will be free to go home accompanied by someone who can assist you and drive.
Recovering from a salpingectomy surgery
After surgery, your belly button might be sore and your chest, belly and shoulders might ache a little until the carbon dioxide gas trapped inside dissolves. Medications will be prescribed to help with pain, although most of our patients do fine with just acetaminophen.
You will be instructed to call us right away if you experience any symptoms that are suspicious for infection, such as:
Fever of 101 degrees or higher
Prolonged nausea or vomiting
Serious abdominal pain
Significant bleeding or pus coming from your incisions
Pain during urination
You should be able to walk about after a couple of days and getting mobile as soon as possible is very important for preventing blood clots.
While you'll be encouraged to get plenty of rest (tell your partner to drive the kids and bathe the dog!) it's important for you to make an effort to get some regular light exercise as well, in order to maintain your strength.
You should avoid strenuous activities and heavy lifting for at least one week following surgery. Your surgeon will tell you when it's okay to advance your activities. Most of our patients are able to return to work within a few days after laparoscopic surgery.
When it comes to gynecologic surgery, there is no substitute for experience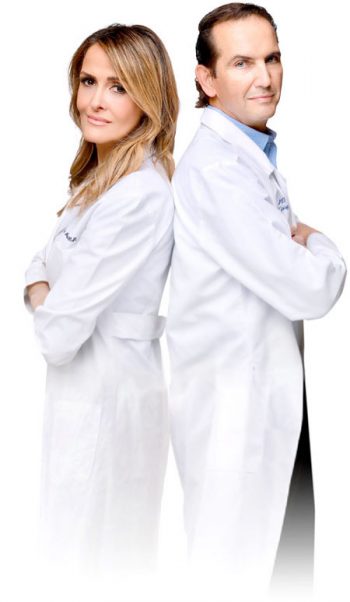 Dr. Thais Aliabadi and Dr. Ramon Yera are recognized experts with an international reputation in minimally invasive OB/GYN surgery, having performed thousands of laparoscopic procedures over twenty years. The recipients of dozens of awards for medical excellence and patient satisfaction, Drs. Aliabadi and Yera have joined forces to create the Outpatient Hysterectomy Center, a world-class surgical practice dedicated exclusively to women's health.
Doctors Aliabadi and Yera specialize in leading-edge minimally invasive surgeries that offer patients shorter recovery times, less pain, and the least interruption to their daily lives. They are pleased to work with a team of highly experienced, dedicated professionals who will help make your pre and post-procedure experience as pleasant and stress-free as possible.
If you are considering gynecologic surgery, you owe it to yourself to learn about the minimally invasive surgical treatment options available today. Schedule a consultation today to have a candid conversation with one of our surgeons about your particular condition in a discreet and non-intimidating setting, where they can address all of your questions and explore what surgical procedure might be most suitable for you.
Please click here to make an appointment or call us at 844-541-7900