What is an Outpatient Laparoscopic Hysterectomy?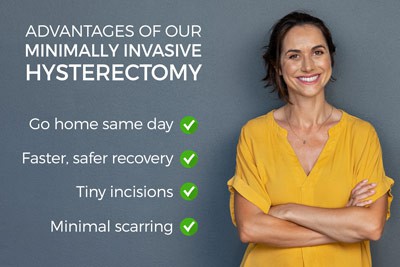 Simply put, a hysterectomy is a surgery to remove your uterus. The uterus is the medical name for your womb: the place where a fetus develops when you're pregnant.
When done laparoscopically, your surgeon simply makes two or three tiny incisions to perform the surgery, avoiding not just unsightly scars but a lot of healing time and pain. Outpatient surgery is done without the need for any hospital stay and you go home the same day.
Hysterectomies are the second most commonly performed surgery on American women after cesarean deliveries. There are almost half a million hysterectomies performed each year in the United States; 80% of those are for treatment of benign diseases, such as leiomyoma, abnormal uterine bleeding, pelvic organ prolapse, and endometriosis.
Why would a woman need an elective hysterectomy?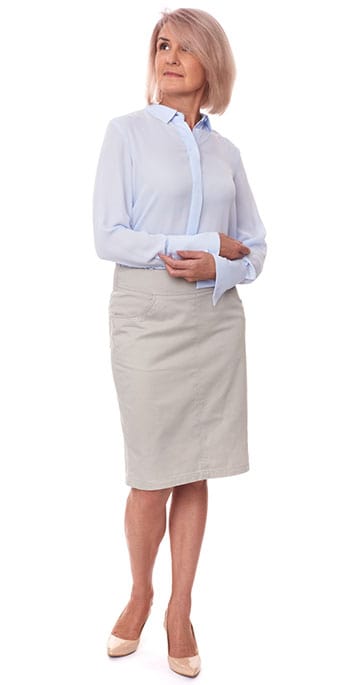 A gynecologist might recommend an elective hysterectomy for medical conditions, such as:
Uterine fibroids that cause pain or excessive vaginal bleeding
Endometriosis treatment
Uterine prolapse (when the uterus slips from its normal position into the vaginal canal)
Uterine, cervical or ovarian cancer
Chronic pelvic pain
Abnormal uterine bleeding between menstrual periods that has not responded to medical treatment
Abnormal thickening of the uterus (called adenomyosis)
Sometimes your doctor may recommend an additional surgical procedure to remove another pelvic organ with the hysterectomy, such as:
Removal of the ovaries (called an oophorectomy)
Removal of the fallopian tubes (salpingectomy)
Are all elective hysterectomy surgeries the same?
No! In fact, there are four ways to perform a hysterectomy and each surgery has its own limitations:
Open abdominal hysterectomy which is, sadly, how 80% of all hysterectomies are performed today. In this procedure, the uterus is removed in one piece through a seven-inch (or longer) incision in the lower abdomen. Open surgery involves at least three days in the hospital and a generally painful recovery lasting from weeks to months.

Unfortunately, this approach can give rise to complications such as significant blood loss, tissue damage, and infection.

Vaginal hysterectomy – During a vaginal hysterectomy, the surgeon makes an incision through the top of your vagina and, using special instruments, detaches your uterus from the ovaries, fallopian tubes, and upper vagina. The uterus is also disconnected from the blood vessels and connective tissue that support it, before being removed through your vagina.

The advantage of a vaginal hysterectomy over an abdominal approach is that it's less invasive and requires less time to perform; which means less anesthesia, a shorter hospital stay and a quicker recovery. Unfortunately, this procedure is limited to women with average to smaller sized uteri, who do not have pelvic scar tissue from prior surgery (known as adhesions), and who also have no possibility of having cancer.

Laparoscopic-assisted vaginal hysterectomy involves the removal of the uterus through the vagina using visual guidance provided by a small camera known as a laparoscope that is inserted through small abdominal incisions.
Again, because the uterus must exit through the vagina, this procedure may not be an option for patients with very large uteri, a lot of pelvic adhesions, or if there is any chance that cancer may be present.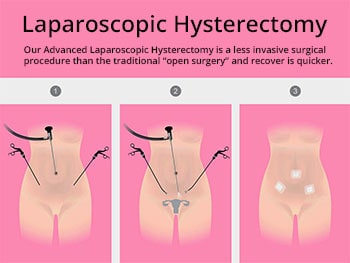 Laparoscopic hysterectomy is a minimally invasive approach that allows the surgeon to make a few small incisions in your abdomen and, under the guidance of a laparoscope, remove the uterus in small pieces.
If there's a chance of cancer being present, our approach is still a 100% safe surgical option.

New advances perfected by our surgeons have solved that problem as we remove the uterus by breaking it into small pieces (a technique called morcellation) after the insertion of, in effect, a sterile bag. This completely isolates the organ so there is no chance of any cancer cells coming in contact with any other part of your abdomen.
What is a minimally invasive laparoscopic hysterectomy? How is it an improvement over traditional laparoscopic procedures?
This minimally invasive out-patient hysterectomy (MIOPH) that is being performed by Dr. Thais Aliabadi and Dr. Ramon Yera is a significant advancement of the traditional laparoscopic technique in two important ways.
It makes the hysterectomy procedure much safer than it previously was.
It also greatly increases the number of women who qualify for a laparoscopic hysterectomy.
Watch Dr. Aliabadi remove an 8-pound fibroid tumor on The Doctors Show.
We improve upon the traditional laparoscopic hysterectomy in three significant ways:

The minimally invasive technique solves the problem of residual uterine tissue being left behind after the uterus is divided into bits before its removal through the small surgical incisions. This is thanks to a new technique called in-bag morcellation. Specifically, a sterile bag is inserted through an umbilical incision to wrap the uterus and isolate it from the rest of the body before it is cut into pieces small enough for extraction through the tiny laparoscopic incision.

After the in-bag morcellation process is complete, the bag containing the uterine fragments is then sealed and taken out via the belly button incision. By containing the morcellation process, the sterile bag prevents possible dispersion of any tissue throughout the abdomen. This containment is critically important if there is any possibility that cancer cells might be present.

This breakthrough bag technique has made laparoscopic hysterectomies available for the first time to patients with uterine pre-cancerous cells, a malignant tumor, or a family history of uterine cancer.

The second improvement offered by the MIOPH approach is a reduction in the size and number of incisions needed. Our minimally invasive outpatient hysterectomy is performed through just two or three 5mm wide incisions (depending on the exact needs of the procedure); Fewer and smaller incisions mean less tissue disruption, less blood loss, and a quicker, less painful recovery.

In fact, our patients are up and about the day after their surgery and typically resume their normal routine within a week.

The final, and most important, advancement offered by the minimally invasive out-patient hysterectomy is that, for the first time, surgeons are able to remove a uterus or fibroids of any size safely through an incision just 5mm wide.

Recently, Dr. Aliabadi removed an eight-pound fibroid tumor the size of a watermelon on national television.
Watch Dr. Aliabadi remove an 8-pd fibroid tumor on The Doctors Show.
With our laparoscopic hysterectomy surgery, women benefit in many ways, including: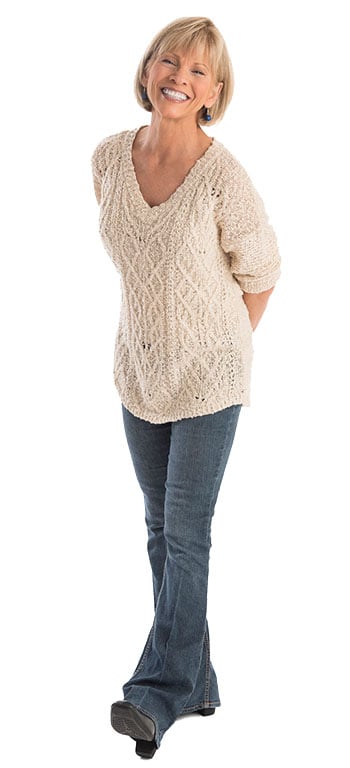 NO NEED TO PUT THEIR LIFE ON HOLD FOR WEEKS TO RECOVER
Most of our patients return to normal activities in one week or less, versus 6 to 8 weeks needed for open hysterectomy recovery
A FASTER SURGERY
Since a minimally invasive laparoscopy performed by our experienced surgeons are done faster than an open abdominal hysterectomy
LESS TIME UNDER GENERAL ANESTHESIA:
Which makes your surgery much safer
GO HOME THE SAME DAY OF SURGERY:
Apart from being more comfortable for most patients, recovering at home has a much lower infection risk versus staying in a germy hospital environment
MINIMAL BLOOD LOSS:
Makes it safer for patients by avoiding risky transfusions
BARELY VISIBLE SCARS
There are only THREE TINY INCISIONS made on the abdomen, each only 5mm wide
MUCH LESS PAIN
When compared to open surgery because the abdominal wall is left mostly intact
LOWER RISK OF POST-OP BLOOD CLOTS:
Because MIOPH is much less disruptive than open abdominal surgeries that can result in deep venous thrombosis or pulmonary embolism
With all of these advantages for the patient, no wonder most medical insurers readily authorize minimally invasive outpatient hysterectomies.
Our outpatient laparoscopic hysterectomy recovery and what to expect…
Below is a summary of key differences between the two types of hysterectomy:
| | Our Minimally Invasive Hysterectomy | Open Abdominal Hysterectomy |
| --- | --- | --- |
| Duration of Surgery | 1 Hour | 1-2 Hour |
| Number/Size of Incisions | Three/ 5mm long | One/ 5 to 7 inches long |
| Length of Hospital Stay | None | 3 days |
| Recovery Time | 1 week | 6 to 8 weeks |
Why do so few surgeons perform outpatient laparoscopic hysterectomies?
In order for surgeons to perform minimally invasive out-patient hysterectomy safely, and with excellent outcomes, a high degree of training and a high volume of cases is needed to master the technique.1 Sadly, this is why so many surgeries that begin as laparoscopies must be converted into open hysterectomies when the surgeon comes up against a problem that they lack the skills to solve laparoscopically.2
This is why most surgical consents for a laparoscopic hysterectomy include a clause giving the surgeon the option to convert to an open abdominal hysterectomy if they feel it is necessary. The high conversion rate from laparoscopy to open surgery has given women desiring a minimally invasive approach a false choice when it comes to opting to undergo a laparoscopy. That is, until now.
TODAY, NEARLY EVERY WOMAN IS ELIGIBLE TO RECEIVE A MINIMALLY INVASIVE HYSTERECTOMY.
Welcome to the first minimally invasive outpatient surgical practice dedicated to women.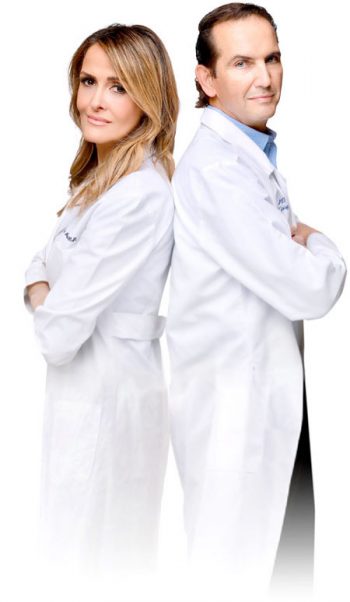 For years, Drs. Yera and Aliabadi have spared women from experiencing invasive open surgeries associated with disfiguring surgical scars, extended hospital stays, and long painful recoveries.
All of this unnecessary suffering was simply because women weren't aware that minimally invasive outpatient surgery was available.
Luckily, the women of Southern California (and those who wish to travel here) now have a choice. Drs. Aliabadi and Yera are among a handful of elite American Ob/Gyn surgeons who perform Minimally Invasive Outpatient Hysterectomies.
After performing thousands of these procedures and teaching this surgical technique to gynecologists throughout the U.S. and abroad, Drs. Aliabadi and Yera collaborated to create an outpatient surgery practice exclusively for women. Their goal is to raise the bar for women's health by making these procedures more widely available to women everywhere.
If you have been told that you need a hysterectomy, consider minimally-invasive outpatient surgery. Because your health and time are among your most important possessions.
If you wish to schedule a consultation to learn how we can help you or to establish care with us, please request a consultation online or call us at 844-541-7900.
Risk of venous thromboembolism in abdominal versus minimally invasive hysterectomy for benign conditions. Barber EL, Neubauer NL, Gossett DR https://www.ncbi.nlm.nih.gov/pubmed/25511239
Surgical volume and conversion rate in laparoscopic hysterectomy: does volume matter? A multicenter retrospective cohort study. JHM Keurentjes, JM Briet, GH deBock, MJE Mourits Am J Obstet Gynecol. 2015 May;212(5):609.e1-7. Doi:10-1016/j.ajog.2014.12.006. Epub 2014 Dec 12. https://www.ncbi.nlm.nih.gov/pmc/articles/PMC5772131/