What is a Perineorrhaphy?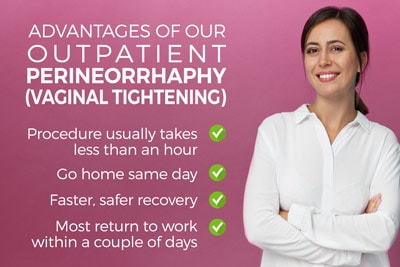 Perineorrhaphy, also known as Perineoplasty, is the most common type of vaginal surgery performed. The term refers to surgeries that correct conditions involving the perineal body: namely, the span of tissue between the vaginal opening and the anus. These conditions can include vaginal opening looseness or tightness, incontinence, a damaged or scarred perineum, vaginal warts, decreased sexual sensation or pain with penetration, to name a few.
There are two different types of perineorrhaphies, and the surgical approach selected will depend upon the particular condition that's being treated: in one approach, the vaginal opening and the perineal muscles are tightened and in the second approach, they are loosened.
Who are candidates for Perineoplasty?
Perineorrhaphies are most frequently performed on women who have had a baby via vaginal delivery and have sustained a laceration of their perineum or had it purposefully cut (an episiotomy) in order to accommodate the infant's head.
When there are extensive perineal wounds that result in either cosmetic disfigurement or a gaping vaginal opening that affect sexual enjoyment for a woman and her partner, a perineorrhaphy can reconstruct the vaginal muscles to tighten the opening, repair any tears and correct disfiguring scars.
Similarly, if perineal scar tissue has resulted in a narrower vaginal opening that makes penetration painful, surgery can be performed to expand the vaginal opening (called the introitus).
How vaginal tightening is done
In a tightening perineorrhaphy, the surgeon makes a small V-shaped incision along the rear wall of your vagina that borders the anus. The V-shape of the incision allows your surgeon to remove all of the scar tissue from a prior vaginal tear or episiotomy while, at the same time, creating two perfectly straight edges that can be stitched together to decrease the size of your vaginal opening. Decreasing the diameter of your vaginal opening will result in increased friction during penetrating sex, which can enhance pleasure for you and your partner.
Cosmetic surgeries for external genitalia
Other perineorrhaphy procedures are done to change the cosmetic appearance of a woman's external genitalia to fit a desired aesthetic. Many women may seek out these procedures to restore their confidence and increase their, and their partner's, levels of sexual pleasure.
These can involve removing scar tissue, unsightly bulges or uncomfortable excess skin. Two such procedures are known as Vaginoplasties and Labiaplasties.
During a Vaginoplasty, excess vaginal lining is trimmed away, resulting in a more tucked-in and "youthful" appearance. During a Labiaplasty, the size and/or shape of the labia minora (the "inner lips" that cover the clitoris and vagina) are altered to achieve a desired appearance.
What happens during a Perineorrhaphy procedure?
Our surgeries are always performed on an out-patient basis, meaning that you go home the day of the surgery. The procedure time is usually less than an hour and is typically performed using local anesthesia. For those patients who require it, intravenous medications can be administered to make them feel more relaxed during the procedure. You and your surgeon will decide which option is best for you.
You are positioned on the surgical table just as you would be positioned for an OB/GYN exam. Your external genitalia, thighs, vagina and anus are thoroughly cleaned with an antiseptic solution and the unwanted tissue is removed, leaving an aesthetically pleasing incision. Absorbable stitches are typically used to close skin incisions. These dissolve over several weeks while your wounds heal and don't require removal.
In some cases, your surgeon might place a dressing pack inside your vagina to compress the surgical site and reduce post-op bleeding and bruising. Your surgeon might also insert a urinary catheter to help you pass urine more comfortably for the first few hours following surgery. The catheter will usually be removed before you are sent home but, in some cases, it might need to remain in place for 24 hours before it is removed.
What happens after Perineoplasty surgery?
You many experience some vaginal pain following surgery, so you will be sent home with medications and advised to rest. You will be instructed on applying cool packs to help with swelling and discomfort. Some women (though not all by any means) might have difficulty with sitting comfortably for several days after their surgery; this is normal.
It is also normal to experience spotting or brownish discharge for up to one week following surgery, although this should gradually taper off. You'll be advised to wear a pad to absorb any blood or discharge. Before being sent home, you will be instructed on typical symptoms of infection (such as chills, fever, nausea and vomiting), and will be asked to contact us right away if these occur.
You will need to avoid wearing tampons and to refrain from sexual relations from two to four weeks, or until you are cleared to do so by your surgeon. You may also be advised to avoid strenuous activities that will place pressure on your repair like lifting, cycling, horseback riding, aggressive stretching, vigorous exercise and straining with bowel movements due to constipation.
While most of our patients will be able to return to work within a couple of days, the time off that you will need will depend a lot of the nature of your surgery and the type of activities required of you at work. You should be able to drive and take short walks starting the day after your surgery.
What are the risks with a Perineorrhaphy?
All surgeries involve a risk of complications, no matter how small that risk may be, and it's important that your surgeon discusses these with you. Basically, perineorrhaphy procedures have the same risks that can occur following any surgery, which include:
Bleeding: Because the surgical site is fairly limited in size, the chance of having serious bleeding during a perineorrhaphy that would require a blood transfusion is well under 1%.
Post-operative wound infection: Although our surgical protocol involves administering prophylactic antibiotics by vein at the start of the procedure and observing meticulous sterile techniques, given the location that is involved, there is a small chance of an infection involving the vagina or pelvis.
Bladder infection: Also known as cystitis, bladder infections occur in roughly 6% of women who undergo surgery, especially if a urinary catheter has been placed. You might be familiar with the typical symptoms of burning while passing urine, urinary frequency and perhaps blood tinged urine. Luckily, this is easily treated with a short course of antibiotics.
Anesthesia complications: problems arising from anesthesia are extremely rare, given today's monitoring equipment, but nonetheless can occur. Given our surgeons' extensive experience in performing these surgeries, most of the perineorrhaphies performed at our practice are performed in well under an hour and don't require general anesthesia.
If the posterior vaginal wall requires surgical repair, some complications specific to a posterior repair can include:
Constipation: Often chronic constipation can cause structural problems at the posterior wall of the vagina that borders the rectum. Also, certain pain medications can lead to constipation. Luckily, constipation can be treated with prescription laxatives, a high fiber and high fluid diet, and stool softeners.
Painful Intercourse: Although every effort is made to avoid it, some women may experience pain with sexual relations after they have undergone certain perineorrhaphy procedures. Luckily, most of our patients find that intercourse is more comfortable following their surgery.
Damage to surrounding tissue: Because the wall of tissue separating the back of your vagina and your rectum is fairly thin, there is a small chance of penetrating the vaginal wall during surgery and damaging the rectum. Fortunately, this is extremely rare in the hands of our highly experienced surgeons and is one of many reasons why you should seek out specialists who perform a great number of these procedures and possess the skill set to address a wide variety of circumstances.
There's no need to feel embarrassed when it comes to your vagina
Because there can be any number of issues affecting your vaginal health, it is essential to have a frank discussion with your surgeon, informing them in great detail of what you are experiencing so that they can pinpoint your diagnosis and address your concern.
While this may not be an easy conversation for you to have, rest assured that our surgeons will put you at ease because they have lots of experience in treating these issues which, you might be surprised to learn, are fairly common.
When it comes to gynecologic surgery, there is no substitute for experience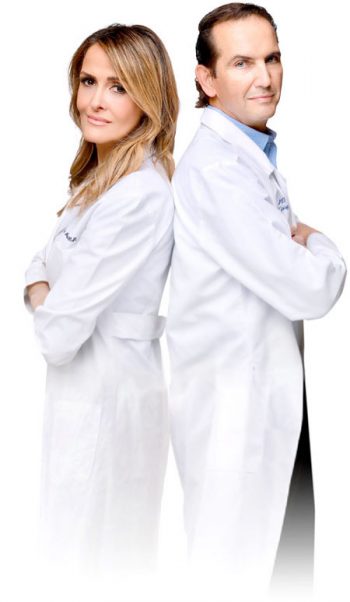 Dr. Thais Aliabadi and Dr. Ramon Yera are recognized experts with an international reputation in minimally invasive OB/GYN surgery, having performed thousands of procedures over twenty years. The recipients of dozens of awards for medical excellence and patient satisfaction, Drs. Aliabadi and Yera have joined forces to create a world class surgical practice dedicated exclusively to women's health.
Watch Dr. Aliabadi remove an 8-pound fibroid tumor laparoscopically on The Doctors TV Show.
At their Beverly Hills women's surgical center, they specialize in state-of-the-art minimally invasive surgeries that offer patients shorter recovery times, less pain and the least interruption to their daily lives. They are pleased to work with a team of highly experienced, dedicated professionals who will help make your pre and post-procedure experience as pleasant and stress-free as possible.
If you are considering gynecologic surgery, you owe it to yourself to learn about the minimally invasive surgical treatment options available today. Schedule a consultation today to have a candid conversation with one of our surgeons about your particular condition in a discreet and non-intimidating setting, where they can address all of your questions and explore what surgical procedure might be most suitable for you.
If you wish to schedule a consultation to learn how we can help you or to establish care with us, please request a consultation online or call us at 844-541-7900.