A traditional hysterectomy (surgical removal of the uterus) used to entail a large incision, severe pain, and unsightly scarring. That approach is a thing of the past at Outpatient Hysterectomy Center where their minimally invasive laparoscopic approach allows for a faster recovery time with no hospital stay.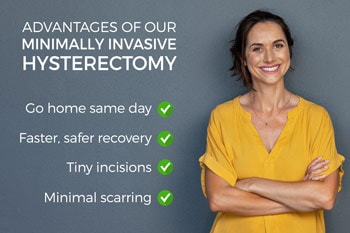 Dr. Thais Aliabadi and Dr. Ramon Yera are two of a handful of OB/GYN's in the United States that dedicate their surgical practice solely to the needs of women, revolutionizing minimally invasive surgical procedures. Patients come to the Center from all parts of the USA and worldwide to consult with the best gynecological surgeons.
Did you know that total hysterectomies are one of the most common surgery American women undergo? That's right, about a half a million hysterectomies are performed each year in the United States alone.
Why a woman would need for a hysterectomy
The majority of hysterectomies are for the treatment of diseases such as abnormal uterine bleeding, endometriosis, uterine fibroids, excessive vaginal bleeding, uterine prolapse, ovarian cancer, chronic pelvic pain and abnormal thickening of the uterine lining.
There are fundamentally three types of hysterectomies performed today, and they are:
The abdominal hysterectomy
Prior to the laparoscopic technique used by Drs. Aliabadi and Yera, most surgeons performed what's known as an open abdominal hysterectomy. During an open hysterectomy surgery, the surgeon takes the uterus out through a seven-inch incision in the lower abdomen.
This type of invasive surgery usually includes a hospital stay of three days or more. There is also a painful recovery period of weeks or months, not to mention the potential for considerable scarring. Unfortunately, this is still how the majority of hysterectomies are performed.
Possible complications of this open surgery include infection, considerable blood loss, and tissue damage.
Vaginal hysterectomy
Another widespread type of surgery is known as a vaginal hysterectomy. With this surgical approach, the doctor uses special instruments to make an incision through the top of the vagina. They then separate the uterus from the ovaries, upper vagina, and fallopian tubes.
Blood vessels and connective tissue are then removed from the uterus before being taken out of the vagina

The advantage of this type of hysterectomy over an abdominal approach is that it's less invasive and requires less time to perform, which means less anesthesia, a shorter hospital stay, and a quicker recovery.

Unfortunately, this procedure is limited to women with average to smaller sized uteri, who do not have pelvic scar tissue from prior surgery (known as adhesions) and who also have no possibility of having cancer.
Minimally invasive laparoscopic hysterectomy
Drs. Aliabadi and Yera are specialists at removing the uterus laparoscopically through three tiny abdominal incisions below the belly button.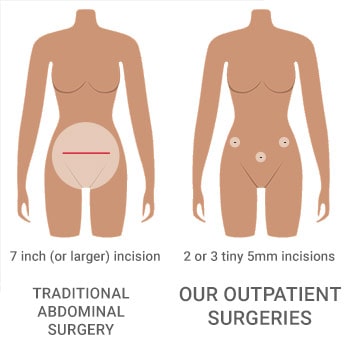 The uterus is removed by splitting it into small pieces after a sterile bag is inserted into the vagina. Because of their sterile bag approach, even if cancer is present, there is no chance that cancer cells will be spread as a result of the surgery.
Discovery of cancer during traditional laparoscopic hysterectomies is one reason why so many surgeons have to convert to the very invasive open hysterectomy, but not with Drs. Aliabadi and Year.
Performed in an outpatient setting, our minimally invasive laparoscope-assisted hysterectomy is a much-safer procedure than previous operations. Here are just a few of the benefits of having a minimally invasive outpatient laparoscopic surgery with Drs. Aliabadi and Year:
Our minimally invasive laparoscopic hysterectomy is performed much quicker than an operation in a hospital setting
Our patients spend much less time under anesthesia
There is no hospital stay. You leave the Outpatient Surgery Center the very same day
Scarring is greatly reduced
With only small incisions, you'll experience far less blood loss
Because the abdominal wall is left intact, you'll have less pain.
The chance of blood clots is greatly lowered because the surgery is minimally disruptive
Get to know the best surgeons near you
Dr. Thais Aliabadi formed the Outpatient Hysterectomy Center with internationally renowned gynecological surgeon Dr. Ramon Yera.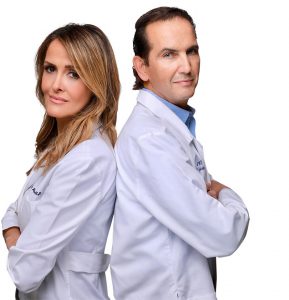 Since 2002, Dr. Aliabadi has been providing quality women's health care to women in the Los Angeles Area.
She is certified by the American Board of Obstetrics and Gynecology and a Diplomat and member of the American College of Obstetrics and Gynecology (FACOG)
Dr. Aliabadi acts as an official obstetrician and gynecologist for a number of royal families, as well as Hollywood celebrities such as Kylie Jenner, Khloe Kardashian, and the singer Halsey, to name just a few.
In addition, Dr. Aliabadi teaches residents at Cedars Sinai Medical Center and medical students at the University of Southern California.
A member of the American Board of Obstetrics and Gynecology, Dr. Raymond Yera has been practicing gynecologic surgery for the past 21 years, also specializing in women's reproductive tracts, pregnancy, and childbirth.
Dr. Yera attended the University of California Irvine School of Medicine and took his residency at Kaiser Foundation Hospital.
The Drs. treat a variety of gynecologic conditions and are expertly trained in other minimally invasive surgeries including myomectomy, cystectomy (removal of ovarian cysts), endometriosis surgery, uterine septum resection, pelvic prolapse surgery.
Premier hysterectomy surgeons near me
The gynecologic surgeons approach surgical treatment with kindness and care, using modern equipment, minimally invasive procedures, and treatment options specifically individualized for you. Conveniently located in Los Angeles at the Cedars-Sinai Medical Center Office Towers near Beverly Hills, West Hollywood, West Los Angeles, Santa Monica and throughout Los Angeles County.
COVID-19 (Coronavirus) protocol: Our staff practices all CDC safety procedures and social distancing measures to keep everyone safe and very well cared for.
For a consultation call 1-844-541-7900. Online appointments are available here.
The Outpatient Hysterectomy Center of Los Angeles
8631 West 3rd St
Suite East 1110
Los Angeles, CA 90048