Is a uterine transplant possible?
If you read the title of this article, you already know the answer is yes!
The first uterus transplant attempt took place in 2000. As of last year, about 100 uterine transplants have been performed, with 30 of those being in the US.
The first successful uterus transplant ("successful" here meaning resulting in live birth) took place in Sweden in 2014. A Swedish uterus transplant recipient completed a successful pregnancy and birth with a donated uterus.
In 2017, the first successful US birth from a donated uterus occurred at Baylor University Medical Center in Dallas, Texas.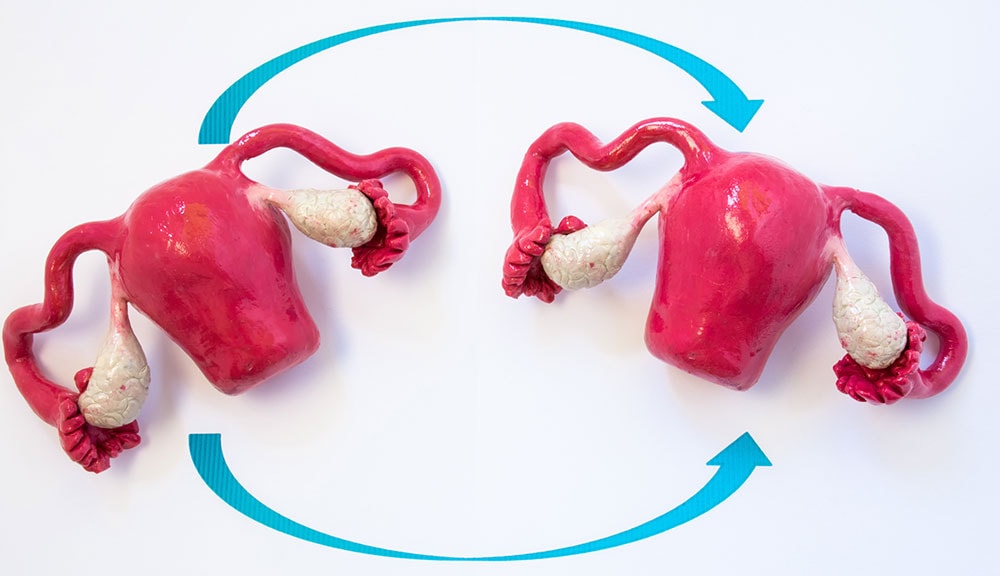 The first US live birth from a brain-dead donor uterus transplantation
In July 2019 another life-giving organ transplant made news. The uterus transplant program at the Cleveland Clinic delivered the first live birth in the US to a mother equipped with the uterus of a deceased woman.
Later that same year, a uterine transplant clinical trial at Penn Medicine also resulted in a happy, healthy baby. Penn's uterus transplant trial allowed a woman born without a uterus to give birth with an implanted uterus from a deceased donor.
What is uterine factor infertility?
In the US, about one in 4,500 women is born with Mayer-Rokitansky-Küster-Hauser syndrome, a rare disorder that causes the uterus to be underdeveloped or missing. Other women lose their uteruses through a hysterectomy. Still others are born with a non-functioning uterus. No matter what the cause, this form of infertility is known as absolute uterine factor infertility (AUFI).
AUFI treatment options
Using a gestational carrier (surrogate birth mother) has been the only way for women with AUFI to have a biological child. But the surrogacy process in the US can be legally complicated.
In some states, and in many other countries, surrogacy is outlawed. Hence the need for an alternative method of enabling a woman with AUFI to bear a child.
About the Cleveland Clinic uterus transplant procedure
Uterine transplants differ significantly from other, more common, transplant surgeries.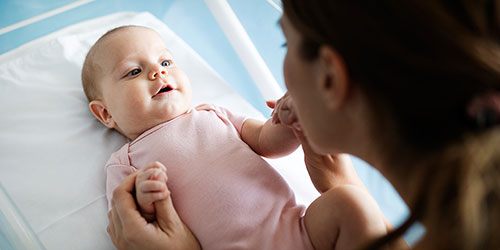 With any allograft – a graft of material from another donor – there are concerns that the immune system may reject the new organ. Additional issues arise with uterus transplantation because it primarily serves a developing embryo, rather than the recipient herself.
When a transplanted organ gets rejected by the immune system, the solution is to try again. But that won't work when the transplanted organ is a uterus housing a developing embryo. So extreme measures must be taken to prevent rejection.
Cervical biopsies are taken at frequent intervals to check for signs of rejection.
The process of delivering a healthy baby from a transplanted uterus is lengthy and convoluted:
The potential recipient is first screened for both physical and psychological factors.
In the Cleveland Clinic trials, the candidates must be 21-39 years of age. The Clinic's transplant team, consisting of OB/GYNs, surgeons, psychiatrists, social workers, and bioethicists must unanimously approve each candidate.
An organ procurement agency next searches for a deceased (brain-dead, but not heart-dead) donor with a healthy uterus. They will obtain informed consent from the donor's next of kin.
The donor's uterus, and the blood vessels that serve it, are surgically transferred into the recipient within six hours of the donor's brain death. The fallopian tubes and ovaries are not part of the surgical procedure.
The uterine transplant team closely monitors the recipient for the next six months. Immunosuppressive medications are administered throughout the process to prevent rejection of the newly installed uterus.
A crucial sign indicating success is the commencement of menstrual periods. This should occur within two or three months after transplantation.
In vitro fertilization prepares the embryo
Meanwhile, the recipient's eggs are fertilized in an in vitro fertilization (IVF) laboratory. Six fertilized eggs are frozen to await embryo transfer.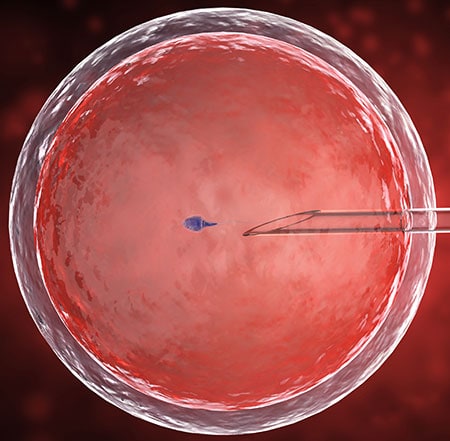 Once the uterus is thriving in its new home (this should happen within six months of the surgery), a single embryo is thawed and prepared for implantation.
The goal is one, or at most two, successful live births
After two pregnancies (whether successful or not) the transplanted uterus will be removed. Keeping it would subject the recipient to a lifetime of negative side effects from the anti-immune drugs. Those side effects can be significant.
As a further complication, all pregnancies with a donated uterus are considered high risk and will require extra monitoring and care. Currently, births with transplanted uteruses must also be delivered by cesarean section.
Why use a uterus from a deceased donor?
Meaningful benefits are achieved by harvesting a healthy uterus from a deceased woman rather than a living donor.
A living donor faces the daunting risks of a highly invasive, complex, and potentially life-threatening surgery. The living donor then also has to live with the side effects and potential complications of no longer having a uterus.
Given the scarcity of both living and brain-dead donors, coupled with the anticipated rise in demand, both sources will probably need to be utilized, at least for the near future.
Uterus transplant for transgender patients
While the growing success of uterine transplants, transgender women can begin to hope for a future where childbearing may be available to them. The feasibility of a successful uterus transplant for a trans woman still needs to be properly assessed. But it would be a great success for women's health!
About The Outpatient Hysterectomy Center
As two of the nation's leading obstetrics and gynecology surgeons, Drs. Thaïs Aliabadi and Ramon Yera offer the very best in women's health care. Together with their warm professional team, they create a special one-on-one relationship between patient and doctor.
We invite you to establish care with the Outpatient Hysterectomy Center. Please click here to make an appointment or call us at (844) 863-6700.
We take our patients' safety very seriously. Our facility's Covid-19 patient safety procedures exceed all CDC and World Health Organization recommendations. Masks are required in our office at all times during the coronavirus pandemic.
The Outpatient Hysterectomy Center is conveniently located to patients residing throughout Southern California and the Los Angeles area. At the Cedars-Sinai Medical Center, we are near Beverly Hills, West Hollywood, Santa Monica, West Los Angeles, Culver City, Hollywood, Venice, Marina del Rey, Malibu, Manhattan Beach, and Downtown Los Angeles, to name a few.
Sources
Brännström, M.; Johannesson, L.; Bokström, H.; Kvarnström, N.; Mölne, J.; Dahm-Kähler, P.; Enskog, A.; Milenkovic, M.; Ekberg, J.; Diaz-Garcia, C.; Gäbel, M.; Hanafy, A.; Hagberg, H.; Olausson, M.; Nilsson, L. (2014). "Livebirth after uterus transplantation". The Lancet. 385 (9968): 607–616.
Flyckt R, Kotlyar A, Arian S, Eghtesad B, Falcone T, Tzakis A. Deceased donor uterine transplantation. Fertil Steril 2017; 107:e13.